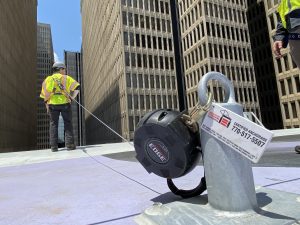 Building a new facility or headquarters for your company is exciting but it can be a large task. Planning can take months, and as an employer, an owner, or building manager, your job is to ensure the safety of everyone involved during construction and when the building is occupied.
OSHA requires fall protection for any worker who may be exposed to a fall of six feet or more during construction, or of four feet or more while the building is occupied, when working at height or near open edges. In addition, OSHA has prioritized ladder fall protection as the number of injuries and fatalities from ladder falls is one of the most common workplace accidents.
How can you be sure the crew working for you are protected? As an employer, how can you be sure to keep yourself protected from a potential lawsuit?
Here's a reminder of worker rights:
Workers are entitled to a safe and healthful workplace
Workers have a right to know about hazardous chemicals
Workers have a right to file a complaint with OSHA
Workers have a right to be free from retaliation for exercising safety and health rights

Construction Fatal Four 
Data from 2018 suggested that the top 4 fatalities reported on construction sites (excluding transportation) are:
Falls – falls from roof, ladders, scaffolding (most fatalities are the result of falls from between 11 feet and 20 feet)
Struck by object – flying objects from power tools, falling tools or material knocked off an unprotected edge, swinging radius of crane, rolling into or over by heavy equipment
Electrocutions – for electrical workers – electrical equipment and wiring; for non-electrical workers – contact with overhead power lines by heavy equipment
Caught in/between – caught in or compressed by equipment or objects, stuck, caught, or crushed in collapsing structure, equipment or material
What are My Fall Protection Responsibilities as an Employer?
With a Managed Fall Protection Program, you commit to providing a safe work environment for all employees working at heights and exposed to fall hazards. Penalties for not following OSHA regulations can be severe, and employers who have never been inspected by OSHA can still be found liable in civil court if they fail to observe OSHA requirements.
As an owner, you're obligated to:
Be aware of hazards to your own employees
Be aware of hazards to other employees not created by tenant or contractor
Disclose known hazards like asbestos, mold, and lead
Have permanent fall protection and davits
What are the Roles and Obligations in a Managed Fall Protection Program?
Employer – as defined by OSHA, generates the policy and appoints Program Administrator
Program Administrator – Develops, implements, monitors, and evaluates fall protection program; verifies training of Qualified, Competent, and Authorized Persons; checks for Fall Protection equipment recalls
Qualified Person – Can be an outside consultant (engineer); supervises the design, selection, installation, use, and inspection of certified anchorages and horizontal lifelines; participates in any investigation of all incidents related to falls from height
Competent Person (Foreman or Supervisor) – Immediate supervision, implementation, and monitoring the fall protection program; conducts hazard survey; prepares, updates, reviews, and approves written fall protection procedures and rescue plans; verifies training of authorized personnel; inspects fall protection equipment and immediately removes from service any equipment that is damaged or has been impacted in a fall.
Authorized Person (Worker) – Is trained to follow employer's policy, fall protection program and competent persons instructions regarding use of fall protection and rescue system; inspects fall protection systems prior to each use and notifies competent person of any defect or damage and avoids using such systems until corrections are made; brings all unsafe or hazardous conditions to the attention of the competent person; stores and maintains fall protection systems as directed and in accordance with manufacturer's instructions.
Eliminate, Prevent, Control and Warn 
Remember: your obligation as an owner, property manager, architect, planner, or engineer is to incorporate safe design measures to eliminate, prevent, or otherwise control fall hazards in the design phase.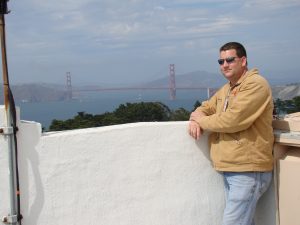 To eliminate fall hazards, working from the ground or locating equipment in interstitial space is the most effective. Preventing falls using guardrails, covers, barriers, and flat surfaces is also effective. Less effective but still viable options are using fall arrest and nets (not a cure all, as everything must work perfectly to prevent fatalities), and warnings – which are essentially no protection – and relying only on worker behavior and human nature.
Innovative Engineering Inc. Can Provide Efficient Fall Protection
Innovative Engineering Inc. is a trusted Structural Engineering resource of facility owners and managers of all sizes, including those with the nation's largest real estate portfolios. We strive to be a true partner to our clients, providing them with honest assessments, and more importantly, sound solutions.
"Innovative Engineering Inc. (IEI) has been a trusted resource for our structural and parking garage repair and restoration needs for several years. I have personally worked with the firm as long ago as 2001. We have found IEI to be very responsive and easy to work with. Their work has been accurate, thorough, on time, and within budget. We look forward to continuing our relationship with them."  – Sarah Peek, Emory University Hospital Midtown
Contact us today for our expert advice and knowledge about fall protection, façade inspection, turn key, anti-terrorism force protection, and more. Our experts are standing by to help you!