Atlanta
Louisville
Los Angeles
Seattle



IEI's Industrial Engineering Group has extensive experience structurally engineering new and upgraded industrial, process and manufacturing facilities coast to coast for large and small owners involving tight coordination and deadlines. Their engineers are cross trained in various disciplines, experienced and proficient with BIM Revit and as-built surveying and have prior construction field experience. Over the years they have developed and obtained specialized equipment and skills to accurately and efficiently conduct as-built surveys of structural, mechanical and process systems. With advanced training and certification in PPE, hazmat, respirator and confined space, lift operation, fall protection and industrial rope access, work is conducted by teams in a safe and efficient manner.
IEI's structural engineers are experts in building super-structures including metal buildings, tilt-up load bearing and structural steel construction, long span steel trusses, overhead cranes, heavily loaded slabs and foundations. They have additional expertise in forensics, dynamic analysis, industrial blast design, equipment supports, foundations and pits, conveyor supports, hopers, equipment towers and fall protection.
Time to Market is a Critical Concern
Time to Market is a critical concern once the decision is made to proceed with new construction, renovation or upgrade of industrial, process and manufacturing facilities. As the facility housing and supporting the operation is largely a structural design endeavor, it is important that your structural engineer be detail oriented, thorough, and have an appreciation of the multi-discipline and equipment coordination effort required to achieve the objectives of the owner and the facility. This coordination effort is a continual process often extending into construction and is key to the successful on time delivery of a project. Errors or coordination problems identified on paper, so to speak, can be rectified much more quickly and painlessly than during construction.
Once the programming and site selection has been completed, a thorough 3D (BIM) model should be constructed for ongoing coordination purposes. For existing facilities, a thorough as-built survey and documentation may be required or at least existing drawings should be field verified. Like any other specialty within structural engineering, as-built surveying requires specialized training, tools and experience. For most engineers, as-built surveying is outside their ability and comfort zone.
The building shell is often a metal building or conventional construction. "Pre-engineered metal Building" is a misnomer as metal buildings are custom engineered for each project. Your structural engineer should have in-depth knowledge of metal building design and the associated industry standards. Their design have inherent limitations that frequently get design teams into trouble, often during construction leading to delays and change orders to the owner. Metal buildings were originally intended as basic shelter and continue to efficiently serve this purpose today. As long as local building jurisdictions allow and the owner wants a standard metal building, metal buildings are very good at providing a basic economical shelter. Once a metal building with the appearance or properties of a conventional building are desired, a conventional building is more economical. Good examples of this are the "big box" stores that are either tilt-up or load bearing masonry and structural steel conventional construction. If a metal building more economically met their needs, you would see more of them. Tilt-up wall or reinforced masonry construction is much more secure than metal wall panels that can be removed quickly with portable screw driver. Also, since metal buildings are typically designed with no reserve capacity, they are not as flexible as conventional construction when it comes to relocating or adding suspended equipment. Furthermore, metal building drawings do not include the structural properties of the primary framing members thus requiring a detailed as-built surveying and computer modeling if modifications or additions are sought.
Structural engineering of equipment foundations and supports requires a desire by the engineer to roll up their sleeves and delve into an understanding of the equipment functionality and requirements. For most manufacturers, structural engineering support from the manufacturer is either hard to reach if it exists at all. Therefore it is important that your structural engineer to have the tenacity to keep digging until he/she feels comfortable with the design basis information. They should also realize that the physical properties often vary from the initial cut sheet, to shop drawings to the equipment delivered to the field. An understanding of the above by your structural engineer will help to greatly minimize the likelihood of surprises, delays and claims during construction.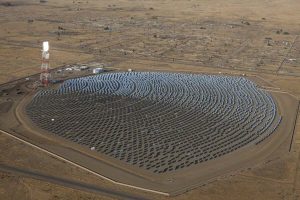 Coalinga, CA
Structural engineering for a first of its kind solar-to-steam technology designed to use 7,000 mirrors to reflect sunlight onto a 323 ft tower to produce steam, which is injected into an oil well to make oil easier to extract. Design consisted of engineering of structural steel tower superstructure modifications and additions, foundations, cable tray and pipe supports, equipment racks and anchorage, and elevated walkways.