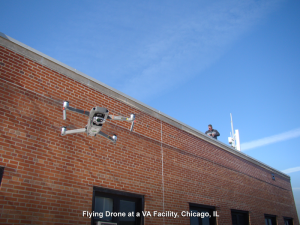 Over the past couple decades, drone technology has advanced at a spectacular rate. Global Positioning Systems, accelerometers, and lightweight components have made drones cheaper, more accessible, and better performing than ever before. There is a nearly limitless number of applications for commercial drone flight, including photography, videography, agriculture, search-and-rescue operations, land surveying, and more. Recreational drone flight has become very popular as well, with pilots using their drones to race and perform stunts as well as take photos and videos.

Drone use is becoming more and more commonplace in today's world, and the United States Government has noticed. Unwanted or hostile drones in US airspace are among the top national security threats in this country today. Flying a drone in restricted areas could interrupt operations at airports, military bases, other essential facilities, or threaten safety and security at public events.

In fact, there have already been multiple security issues involving drones in the news, both domestically and internationally. In April 2018, a medical helicopter in Dallas, Texas was forced to take evasive action to prevent crashing into a drone. This drone was spotted in class B restricted airspace, congested airspace surrounding the nation's busiest airports where drones are not permitted to fly. What's more, the drone was operating at night, which is prohibited without a specific waiver, and was well above the maximum permitted elevation for drone flights. The drone and operator violated at least five Federal Aviation Agency (FAA) regulations and nearly caused a crash as a result. No drone or operator was identified after the near miss.

It's clear that drones have the potential to disrupt major government and private operations in the US. But what is the likelihood of something like the Dallas near miss happening again? Brian Harrell, the Assistant Director for Infrastructure Security with the US Cybersecurity and Infrastructure Security Agency (CISA) considers unmanned aircraft systems "an imminent threat, given their retail availability here in the United States." And he is correct; the FAA has registered 1.56 million drones in the past four years, which is more than five times the number of commercial aircraft registered in the entire history of the agency.

Of those 1.56 million registered drones, more than 1.1 million were registered as recreational craft. There are major differences between flying a drone recreationally and commercially. Recreational pilots have very lax requirements. Under previous US CFR Title 14 Part 101 regulations, the FAA did not require recreational pilots to pass any exams or certifications to fly a drone. These rules are in the process of changing, but currently all recreational pilots need to do to fly is to register their craft with the FAA, then they can fly drones weighing up to 55 pounds in uncontrolled airspace! The FAA Reauthorization Act of 2018, when fully implemented, will require hobby and recreational pilots to pass an aeronautical knowledge and safety exam before flying, as well as obtain authorization to fly in controlled airspace. The recreational pilot knowledge test is expected to be implemented sometime in 2020. But until then, recreational drone pilots will be flying with no training regarding airspace restrictions and regulations, flight operations and procedures, or risk management skills that the FAA deems necessary.

The remaining 440,000 drones registered by the FAA were registered as commercial craft, which are subject to stricter requirements than recreational craft. To fly a drone commercially, the operator must take a knowledge exam covering the US CFR Title 14 Part 107 regulations to obtain their remote pilot certificate. This exam is comprehensive, covering rules and regulations, weather effects on aircraft, craft performance and loading, airport operations, drone-specific flight procedures, and more. Once the operator has their remote pilot certificate, they may obtain additional waivers to fly in conditions that are not covered by the Part 107 rules, such as operating a drone in certain airspaces, over pedestrians, or at night. Commercial drone pilots must also report accidents to the FAA.

Though there are more than 1.5 million drones currently registered in the United States, including 440,000 commercial craft, there are only 171,000 FAA-certified remote pilots. That means that only ten percent of the drones in this country are piloted by certified individuals. With that in mind, it is very important to find a qualified consultant to perform commercial drone work for you.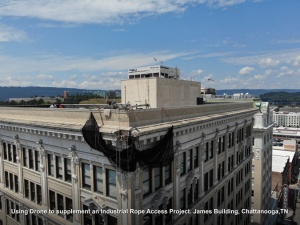 Innovative Engineering, Inc (IEI) is uniquely qualified to perform drone work as part of their engineering offerings. IEI's certified pilots have experience flying drones for building envelope inspections, including roofing and façade inspections. IEI's drone is equipped with a FLIR thermal imaging camera for use by certified thermographers conducting moisture, air leakage, and insulation efficiency surveys. The best time to conduct thermal imaging on building envelopes is at dusk when the ambient temperature drops. IEI pays close attention to ensure compliance with FAA Part 107 guidelines for all flights and has a daylight waiver to legally operate drones at night. Projects that IEI has flown on include Building Envelope Inspections for both government and private sector projects around the country. If you have any questions about how your project might benefit from drone technology, feel free to reach out directly to the author or using the "Contact" page on our website.