Atlanta
Louisville
Los Angeles
Seattle



The core business at Innovative Engineering Inc. (IEI) has always been acting as the structural Engineer of Record for buildings and other structures. The founder, Scott L Weiland, PE started the firm in 1995 after acquiring in-depth experience and success in both the design and construction industries. IEI has since grown to become a medium size firm with highly educated structural engineers with broad experience including low to high rise buildings, light and heavy industrial projects, marine facilities and construction.  Unique to the industry, IEI also offers an experienced and highly qualified Rope Access Forensic Team (RAFT) of structural engineers who are able to efficiently access, inspect and conduct sampling and testing of building facades, roofs, bridges, dams, tanks, towers, confined spaces, and natural features not otherwise accessible with ladders or boom lifts. IEI's RAFT structural engineers are certified rope access technicians by the Society of Professional Rope Access Technicians (SPRAT), OSHA Certified, and have an impeccable safety record.
As a medium size firm, IEI is small enough to ensure principal involvement and nimble response while large enough to handle most any project. They are accustomed to acting as prime consultant and construction manager as requested. Their vast structural engineering abilities, multi-discipline cross training and coordination experience and proven track record of solving some of the toughest forensic engineering cases has resulted in structural forensic engineering capabilities that are second to none.
Forensic engineering is as much art as it is science.
Structural engineers with a strong fundamental understanding of how materials behave when subjected to the environment are good candidates to become accomplished forensic engineers. Structural deficiencies in new buildings are typically directly related to structural or geotechnical design or construction. These deficiencies are often identified during construction or shortly thereafter. In existing buildings, structural deficiencies are typically related to not so obvious causes founded by changes in moisture, temperature and/or loading conditions. Symptoms are typically cracks, sags or rust stains in interior and exterior finishes which building owners are less tolerant of due to the potential liability associated with perceived structural issues. Since the root cause of these deficiencies is typically a non-structural issue, it is important that your forensic structural engineers have extensive multi-discipline building design knowledge, training and experience including:
Historic Preservation
Geotechnical Engineering
Waterproofing
Mold, Asbestos, and Lead sampling and abatement
Furthermore, it is important that your structural forensic engineer has a proven track record investigating similar issues, particularly those where the cause is not so obvious. As identifying the problem is only the first step, it is important that your structural forensic engineer's core business is building design. Based on many peer reviews, on behalf of the federal government, it appears that many specialty firms that focus on one specialty area of practice such as forensic engineering, have lost touch with practical holistic building design and are therefore unable to develop complete, economical and build-able repair solutions.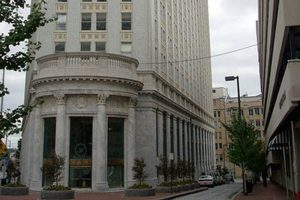 Atlanta, GA
Built in 1926, Hurt Plaza is on the National Register of Historic Places. IEI performed survey and document research to create a composite structural drawing of first elevated building level for condition survey. Conducted condition survey of exterior basement walls and sidewalk support structure. Performed a cursory structural analysis of exterior wall and sidewalk structure for existing conditions and the Atlanta Streetcar. Prepared condition assessment report with recommendations for remedial work and engineered shoring of sidewalk and basement wall to support Atlanta Streetcar surcharge loading.