Atlanta
Louisville
Los Angeles
Seattle

The engineers at Innovative Engineering Inc. (IEI) are trained, certified, and experienced Fall Protection experts. They provide unbiased fall hazard surveys, fall protection engineering, and training. They do not represent any products that could cloud their judgement as to what the most economical fall protection solutions would be. As structural engineers they can provide holistic designs that don't result in partial designs of fall protection products that require another professional to complete the engineering. And through close relationships with the construction industry, they can provide accurate real time estimates as well as turn-key, design-build services as desired.
The Importance of Fall Protection:
Second only to traffic accidents, falls are the #1 cause of the death on the job according to the US Bureau of Labor Statistics (BLS).
The History of OSHA:
Worker health and safety legislation began at the state level in 1877 in Massachusetts. By the 1930's all states had such regulations. As one can imagine, each state's regulatory requirements for worker safety varied considerably.
Completed in 1930, the 77 story Chrysler Building, the tallest at the time, was completed with zero worker deaths. Much of the credit was given to the extensive use of guardrails and safety screens. By contrast, the construction of the World Trade Center between 1966 and 1970 claimed the lives of 60 workers.
The 1960's were a tumultuous time with protests against the Vietnam War, and for Civil Rights and Worker Safety. As a result, the Occupational Safety and Health Act (OSH Act) was signed into law by President Nixon on December 29, 1970. The purpose of this Act was "to assure so far as possible every working man and woman in the nation safe and healthful working conditions and to preserve our Human Resources." Subsequently Congress created the Occupational Safety and Health Administration (OSHA) ,under the U.S. Department of Labor, on April 28, 1971 when the Act became effective. And on May 29, 1971, thousands of consensus standards were issued. OSHA not only assured a safe and healthful workplace, but it provided whistleblower protection.
Our laws in the U.S. are published in the The Code of Federal Regulations (CFR) divided into 50 titles. And Title 29 - Labor includes the OSHA regulations within Parts 1910 and above. Part 1910 General Industry covers all workers with few exceptions unless it is superseded by another specific standard such as Part 1926 Construction. Of interest is that State and Local government workers, there are about 8 million of them, are not covered by federal OSHA. Some states have their own regulations however, they are required to be equal or more stringent than the federal regulations.
Other Fall Protection Laws:
In addition to the Code of Federal Regulations (CFR) other laws in the form of building codes adopted by the Authority Having Jurisdiction (AHJ) as well as other requirements referenced by the building code. For example, the International Building Code (IBC) contains design loading and test requirements for facade access elements such as roof anchors. Also, powered platforms (scaffolding) must meet the requirements of ASME A120.1 when referenced in the IBC.
Standards:
Other voluntary industry standards help fill in the gaps of the OSHA Regulations which helps with compliance. Such standards include:
ANSI Z359 standards of which there are 17 of them in addition to A10.11 and A1264.1 address many areas of fall protection including safety programs, equipment design, and use.
IWCA has a publication I-14.1 which has been voluntarily withdrawn but contains some useful information on roof anchor layout for window washers. They also have the "Window Cleaning Safety Guide 2020" however this document states that it may not meet OSHA.
2017 Updates:
The 2017 update to the OSHA Walking-Working Standards had been in the works since 1990. The update was based on advances in technology, industry best practices, and national consensus standards from American Society of Safety Engineers (ASSE), American National Standards Institute (ANSI), and the International Window Cleaning Association (IWCA). The purpose of the update was to better align the General industry and construction regulations and provide employers with enough options so there would be no excuse for not using fall protection. The following timeline for implementation was mandated:
May 17, 2017: all workers subject to a fall hazard was to receive Fall Hazard Training.
November 20, 2017: all anchors used for Rope Descent System's (RDS) were to be inspected and certified. RDS are no longer allowed to be used at heights over 300 ft unless the employer can demonstrate as part of their fall protection plan that demonstrate other means of fall protection pose a greater hazard.
November 19, 2018: new ladders greater than 24 ft require a Personal Fall Arrest or Ladder Safety System. The use of cages or wells for new ladders is prohibited. Existing ladders greater than 24 ft require cage, well, Personal Fall Arrest or Ladder Safety System.
November 18, 2036: All ladders greater than 24 ft require a Personal Fall Arrest or Ladder Safety System.
Ignorance of the law is no excuse. Penalties can be severe including monetary fines and jail time. Employers that have never been inspected by OSHA can be found liable in civil court because they failed to observe an OSHA regulation. With the new OSHA updates, falls are 100% preventable, not to mention that ensuring worker fall protection is the right thing to do.
PROJECTS: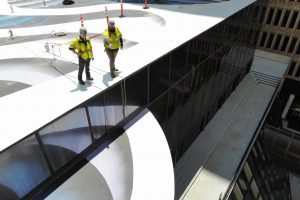 Atlanta, GA
Tested and certified 21 roof anchors mounted atop the Ikon building at Peachtree Center per OSHA 1910 Subpart I, Appendix D,b,2 and IBC 2018 1708 2.2 requirements. Generated a report detailing best practices for use, inspection, and certification of roof anchors. Passing anchors were adorned with certification tags with dates for next inspection .