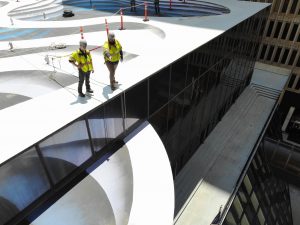 Are your employees properly protected from fall hazards?
Are you absolutely sure that your equipment is up to OSHA Regulations and ANSI Standards, and your employees properly equipped for fall protection?
There's nothing worse than a false sense of security, especially when working at great heights. There are many occasions when workers think they're protected but might be lacking proper equipment – whether it's an ill-fitting body harness, or unsecured railings.
How can you be sure you're not putting your employees at risk?
Proper Harness and Safety Lanyard Training is Key for Fall Protection
One misstep could cost an employee their life if they're not properly protected when working at heights. Have your workers been trained? Have you been trained to make sure they're using their personal protective equipment properly?
It's very important that employees not only know when fall protection is required, but that they know the different types of fall protection and the requirements of each.
Fall prevention – This type of fall protection includes, but is not limited to: solid rails, wire rope rails, and harnesses (attached to lanyards that do not let you reach the edge)
Fall arrest – Also called being "tied-off" – a safety harness, safety lanyard, and anchor point.
Most workers using Personal Fall Arrest System (PFAS) put on a harness first thing. This is where mistakes can be made – someone who has never worn a harness before or hasn't been trained properly might feel completely lost looking at all the straps and buckles. If they don't ask for help, they're at risk to being harnessed incorrectly, which leaves them dangerously unprotected.
Whether workers are actually in danger of falling or not, they must treat their harnesses like it will save their lives every time they put it on. Inspections are a must! Look at straps for signs of wear, and buckles, plastic fittings, and grommets for damage.
Innovative Engineering Inc. Can Provide Efficient Fall Protection
Innovative Engineering Inc. is a trusted Structural Engineering resource of facility owners and managers of all sizes, including some of those with the nation's largest real estate portfolios. We strive to be a true partner to our clients, providing them with honest assessments, and more importantly, sound solutions.
"Innovative Engineering Inc. (IEI) has been a trusted resource for our structural and parking garage repair and restoration needs for several years. I have personally worked with the firm as long ago as 2001. We have found IEI to be very responsive and easy to work with. Their work has been accurate, thorough, on time, and within budget. We look forward to continuing our relationship with them." – Sarah Peek, Emory University Hospital Midtown
Contact us today for our expert advice and knowledge about fall protection, and to provide OSHA Competent Person Training. Our experts are standing by to help you!