A great time was had by all at the Florida Parking and Transportation Association (FPTA) Conference in December at the Sawgrass Resort, Florida. My seminar on Parking Structure Maintenance was well attended, and | received a lot of good questions. One of the questions was how much to budget for maintenance. This was covered briefly on one of my slides shown below, but | would like to discuss all the costs that make up the total operating expenses as a part of this newsletter.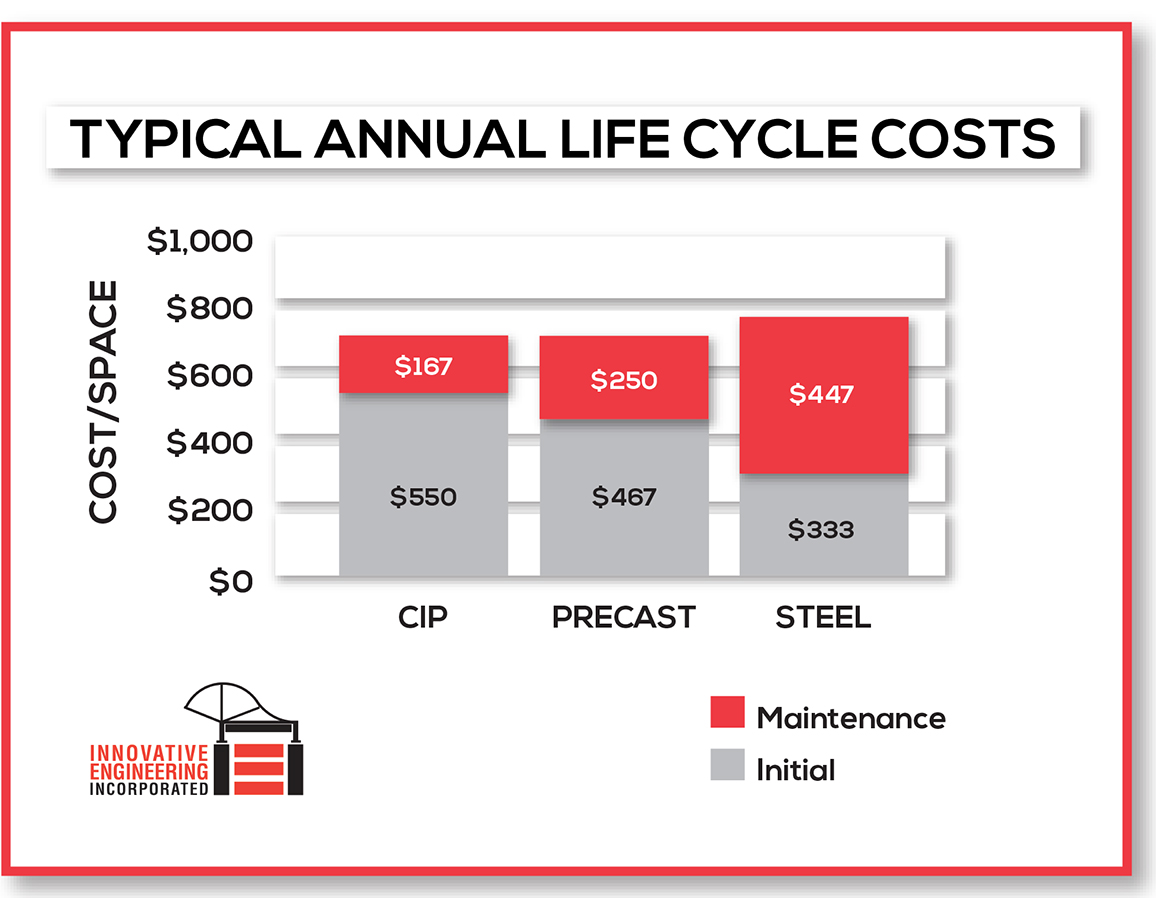 The above slide shows initial and structural system maintenance costs per parking space for the three primary types of structural systems, specifically Cast-In-Place (CIP), Precast, and Steel. The costs are order of magnitude as they vary depending on what part of the country the structure is in. Furthermore, the costs are for a 500 space above-ground parking structure amortized over a 30 year highest and best use life span.
The initial cost of each of the common systems is presented in the above bar chart. Underground parking would increase the cost per space amount as underground spaces are significantly more expensive to construct. The cost of an underground space varies widely but increases exponentially the deeper you go. One rule of thumb is that the cost of a space at the first level below grade would cost double that of a space above grade. A space two levels below grade would cost triple that of an on grade space and so on. The need for deep foundations will further increase the initial cost as well.
The expense of operating a parking facility includes Operational, Finance and Maintenance Costs. Operational costs vary widely depending on how the facility is operated. For example, valet parking requires more staff and insurance, and transient self-parking requires more cleaning, while monthly card access parking requires less of both. Operational costs are determined on a case-by-case basis. Finance costs are more predictable. They account for the debt service or financing of the initial construction.
Maintenance costs can be further broken down into Operational, Aesthetic, and Structural System maintenance costs. Operational Maintenance costs include cleaning, snow and ice removal, mechanical, electrical, plumbing, fire protection, parking control, security, elevator, and signage maintenance, as well as the cost of inspections. Aesthetic maintenance includes general appearance such as painting and landscaping.
Structural System maintenance includes the actual floors, beams, columns, and walls of the parking structure. It also includes drainage, sealants, and waterproofing as these items directly affect the longevity of the structural System. The Maintenance costs shown in the above graphic represent the Structural System Maintenance Costs and include a reserve for major repairs.
The hierarchy graphic below shows a breakdown of what is typically included within each Operating expense category. The order of magnitude costs for structural system maintenance presented in the above graphic for each of the common structural systems are broken down in the red filled boxes below.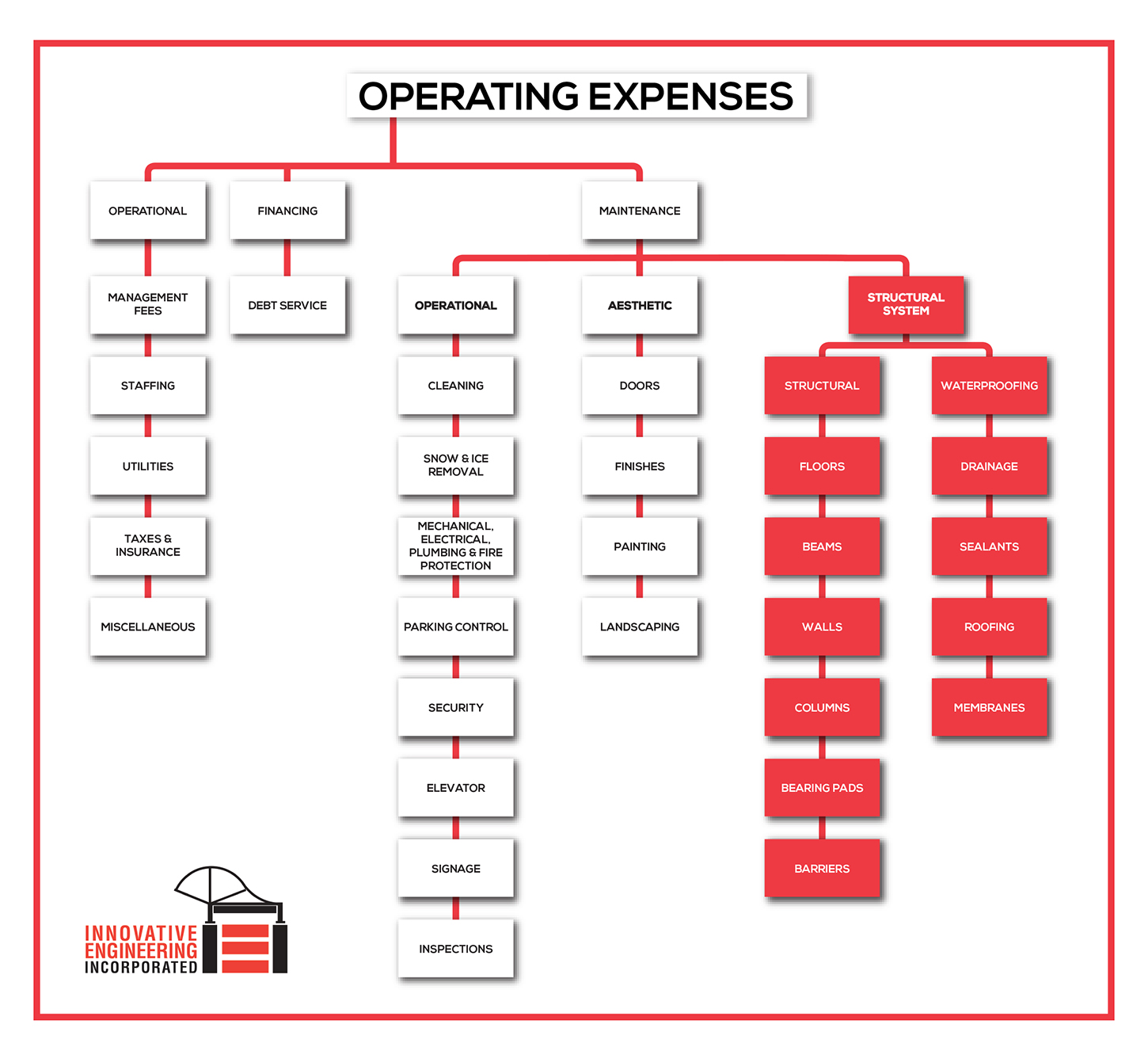 As can be seen, there are quite a few different costs that make up the overall operating expenses of a parking facility. Therefore, it is best to retain a Parking Consultant who specializes in condition assessments, maintenance programs, and capital asset management plan development.
If you have any questions or would like additional information please contact the author Scott L Weiland PE directly. He is amember of the Parking Consultants Council, a peer-reviewed group of the National Parking Association. Mr. Weiland recently authored an article in the November issue of Parking Magazine, "The Truth About Parking Structure Maintenance" and presented in December on "Parking Structure Maintenance: Structural Systems and Maintenance Programs" at the Florida Parking and Transportation Association (FPTA) Conference.
His firm would be glad to assist you with a condition assessment, development of a maintenance program or budget, and/or capital asset management plan.