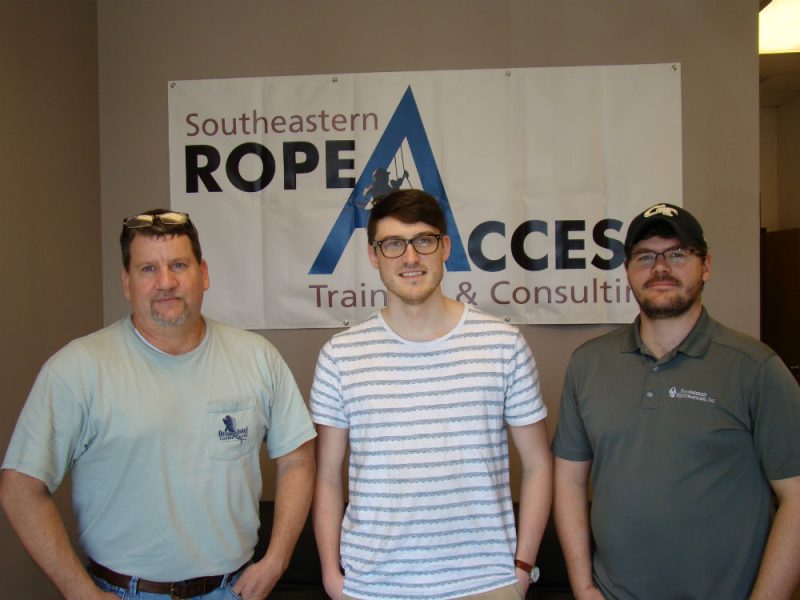 IEI Rope Access Forensics Team (RAFT)recently completed a weeklong SPRAT (Society of Professional Rope Access Technicians) training course which led to the successful completion of the performance evaluation. This training was for both those new to rope access, as well as veterans.
What is Industrial Rope Access?
Industrial Rope Access has been used in the United States for over 60 years. When done by trained professionals, industrial rope access techniques are safer, more efficient and more cost effective than other traditional means of accessing height including scaffolding, swing stages and cranes.
Rope Access is often perceived as a dare devilish field or a sort of last resort for access work at height. However, when used as a system by trained personnel, rope access is safer than the other options.
The Rope access industry has maintained an excellent safety record with over 7,500,000-man hours with zero lost-time accidents working on ropes.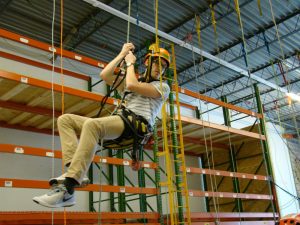 What was the Certification Course?
There are three levels of certification available to interested rope access technicians:
Level I Technician
An individual who performs rope access work. A level I Technician may only work under the direct, on-site supervision of a Rope Access Lead Technician or Supervisor
Level II Technician (Lead Technician)
An Individual who is responsible for physically conducting rope access operations and/or safety evaluations of rope access operations, including maintenance of associated access equipment and performs all Rope Access Lead Technician duties as assigned in the employer's rope access work program
Level III Technician (Supervisor)
An individual who is responsible for the overall rope access work site and performs all rope Access Supervisor duties as assigned in the employer's rope access work program
The SPRAT certification process is intended to establish a minimum baseline knowledge and skill that a successful candidate will possess. The course consists of four full days training on rope in the early morning with the afternoon being classroom lectures and discussions with the fifth day taking the certification test.
In the rope training portion students learned how to perform: rescues, short and long belays, knot tying, and rope transfers. In the classroom portion: the instructurer reviewed every piece of the equipment necessary for rope access, check to see if equipment is still serviceable, and reviewed codes.
The final day of the course is the certification test, which consists of a written test, verbal test, and a hands-on physical performance based test.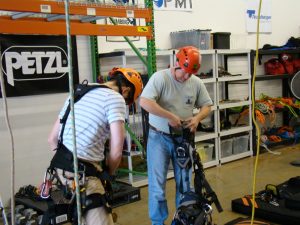 What is SPRAT and Why You Should Hire a Certified Rope Access Technician?
SPRAT was established in the mid 90's to address the needs of a growing number of companies and operators employing rope access techniques in North America. Without specific standards and
legislation in North America to support rope access systems, companies and operators were at times prevented from working by safety managers and legislators. SPRAT development of industry- consensus standards, not only raised the awareness of the safety and effectiveness of rope access systems but paved the way for California's Department of Industrial Relation effort to create one of the first laws sanctioning the use of rope access systems in North America.
A SPRAT certification provides instant recognition and credibility for the technicians who carry it, and the companies who invest in it. In turn, companies that hire rope access services will look for the SPRAT certification, and will know you offer the industry's best in technical achievement
In addition, Industrial Rope Access is much more economical and practical for building inspections. It is more economical to hire a small team of rope access technicians. OSHA requires that any scaffold over 125' tall must have an engineered, stamped drawing. Typically for this is $1,500 – $2500; more if the structure is a large design. On the other hand, rope access requires very little rigging and has no minimum costs associated or required. Not only is it cheaper to hire rope access technicians but it also is much quicker and more versatile than swing stages or scaffolding.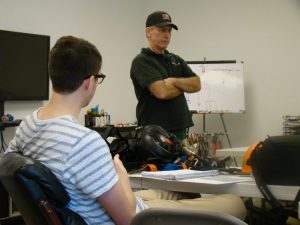 OSHA Requirements
Building owners had until November 2017 to comply with OSHA 1910 requirements for their buildings. Some of the notable changes in OSHA 1910 is that a building owner must inform an employer utilizing Rope Descant Systems (RDS), in writing that the building owner has identified, tested, certified, ad maintained each anchorage that can support at least 5,000 pounds in any direction, for each employee attached. This information must be based on an annual inspection must by a qualified person and certifying of each anchorage by a qualified person, at least every 10 years.
By utilizing industrial rope access, building owners can avoid those costly updates while being able to complete the work in an efficient and economical manner.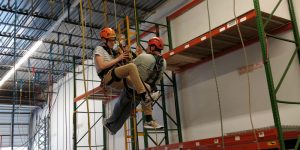 What this means for IEI
The good news about the new OSHA 1910 regulations is that IEI is exempt from them as we only perform industrial rope access. In addition, we are exempt from the new OSHA fall protection rules as they go hand in hand with OSHA 1910.
The Innovative Engineering, Inc. Rope Access Forensics Team (RAFT) of Engineers can efficiently access, inspect and conduct sampling and testing of building facades, roofs, bridges, dams, tanks, towers, confined spaces and natural features not otherwise accessible with ladders or boom lifts. The team are experienced and practicing structural and forensic engineers. As opposed to performing this work for other engineers, they are engineers themselves.