Innovative Engineering, Inc. (IEI) is pleased to announce that Sam Watts, a structural engineering intern at IEI in Atlanta, has won the 2015 – 2016 Al Rowe and Sy Liebmann Scholarship sponsored by the Atlanta Post Society of American Military Engineers (SAME).  The honor from SAME recognizes students with serious scholastic aptitude, good character, leadership qualities, and well-rounded personal development, who are pursuing a college education in engineering, architecture, science, and related degrees.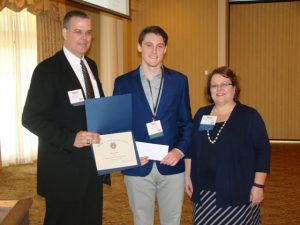 "Sam has proven to be a valuable asset to our structural engineering staff" said Scott Weiland, PE, president of IEI.  "Receiving the 2015 SAME Scholarship duly recognizes Sam's academic achievements as well as his contributions as an entry level engineer to our organization.  He has proven to be a quick learner and consistently meets or exceeds our expectations in successfully working side by side with our engineers as a member of our project teams."
Presentation of the scholarship award was given during the July 14, 2015 meeting held at the Dunwoody Country Club in Atlanta, Georgia.  The scholarship was presented by SAME Atlanta Post President, Beth Harris and Executive Director, Steve Poole. The purpose of the scholarship is to encourage and assist qualified students who are pursuing a college education in engineering, architecture, science, or math, and related degrees so that they, in turn, might further the goals and exemplify the ideals of SAME.
Watts joined IEI as a structural engineering intern in May 2014 while earning his bachelor's degree in civil/structural engineering and is currently pursuing his master's degree from the Georgia Institute of Technology. As an entry-level engineer, he manages and participates in the preparation of structural engineering calculations, contract documents, specifications, sketches or CAD drawings, and site visits.
"What intrigues me about working with IEI is their unique approach to mentoring," Watts said.  "The typical work day consists of meeting with one of the engineers in the morning to lay out an approach for a project and then completing the assigned tasks on my own. The engineers are more than happy to answer any questions throughout the day, though they encourage the use of the available resources as a first resort. Though intimidating at first, this is a very rewarding system as it allows you to learn about everything that you are doing and provides a sense of accomplishment after completing the task on your own."