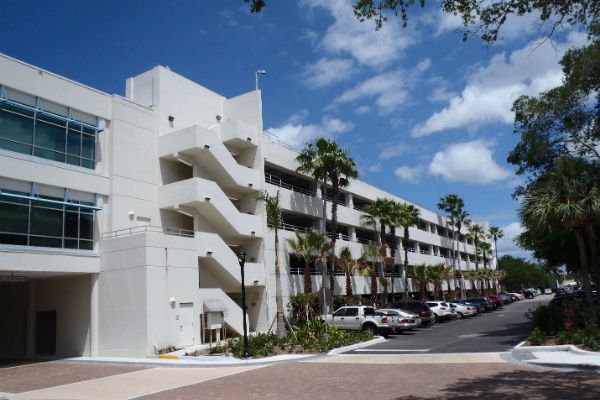 Martin Memorial Center
Stuart, FL
Restoration of an existing 4-story, 779 space parking structure owned by the Martin Health System in Stuart Florida. The intent was to identify and repair all current and future signs of deterioration to restore the parking structure to like-new condition that would last another 30 years. Innovative Engineering was selected as the prime restoration professional to conduct a comprehensive multi-discipline condition assessment, prepare repair construction documents, assist with bidding and award process, and serve as resident engineer during construction. Innovative Engineering was able to identify and uncover deficiencies missed and/or underestimated by other consultants previously hired by the hospital. The $3.3M project is in the last and final stage of construction and is on time and within budget.
The Innovative Engineering Team was also tasked with programming and preliminary design of a 4-story expansion to the parking structure once the restoration is complete.
Project Details
The existing parking structure is a four-story cast-in-place and precast concrete super-structure on spread foundations. The first three levels were built in 1985 and two levels were added in 1998. The precast portion is a proprietary Keystone Precast Joist system that is unique to Florida. The parking structure and supported hospital are located along the shoreline of the St. Lucie River as it feeds into the Atlantic Ocean. It is therefore exposed to salt air and has survived numerous hurricanes.
Structural
The structural condition assessment included a comprehensive survey of all deficiencies above and below each elevated level as well as vertical wall and column surfaces. All surfaces were also sounded utilizing a state-of-the-art sounding device to locate concrete delamination and future spalls where reinforcement in the slab is rusting. Cracks either greater than .012" in width or leaking water were mapped and quantified for repair. Crack width was measured with a propriety crack gauge. Because the ceilings had been primed with white primer and top coated with gray water-based paint, it was easy to detect through slab cracks where water had washed away the top coat. These cracks were repaired. Additionally, Chloride Ion and Carbonation tests were performed to help predict the remaining useful life of the structure. Structural deficiencies including cracks and spalls were repaired in the same sequence as the waterproofing.
Architectural
In the process of repairs, the parking structure was restriped to gain additional parking spaces as parking is limited at the hospital campus. There were 384 displaced, damaged, destroyed, or missing wheel stops. Since wheel stops are the number one cause of trip and fall claims within parking facilities, all wheel stops were removed. It was determined that the perimeter stem walls could safely withstand a vehicle impact load. ADA provisions and guardrails were brought up to code and wayfinding and traffic calming were improved.
Waterproofing
As with most parking structures water was the root cause of most of the deterioration observed. Where ferrous metal was concerned, the salt air contributed to the corrosion. A simple hose test on the top level revealed that most of the joint sealant had outlived its useful life and was leaking. This water was finding its way to the bottom of the parking structure. There were also numerous locations where ponding was occurring on the top level. Therefore, the priority was to control the rain water at the top level by resealing the existing joints, rout and seal leaking cracks, add supplemental drains, repairing spalls and for added measure, install a traffic membrane. Similar repairs were then made in a phased manner on the floors below including a traffic membrane over the electrical and storage rooms on the first level. Also, vertical, and horizontal expansion joints were replaced with joints better suited to the conditions.
Mechanical, Electrical, Plumbing and Fire Protection
Support systems were brought up to code, repaired and replaced as necessary.
Categories