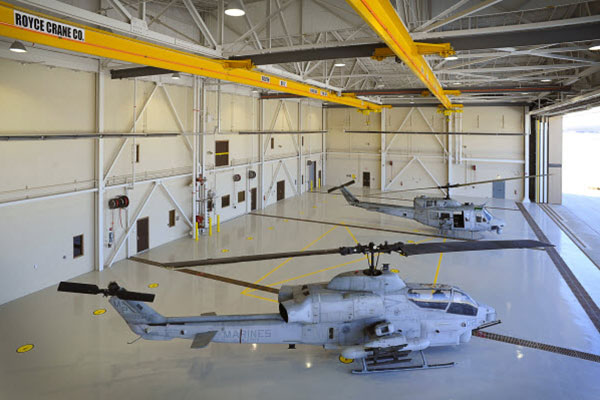 Robins Air Force Base, Marine Corps Reserve Center (MCRC)
Warner Robins, GA
Structural design for a new $15.1M, LEED Certified hangar and renovation of Support Facilities. The 40,375 SF hangar includes structural steel long span trusses, floor vibration design, ATFP requirements, and overhead bridge cranes with a design life of over 20 years. The slab design utilizes state-of-the-art concrete mix & joint design, and foundation utilizes mid-depth stone aggregate columns in lieu of deep foundations.
Project Details
Innovative Engineering Inc. served as structural engineer-of-record for the design and construction (design-build) of a new 40,375 SF hangar, and the renovation of several existing buildings for the MCRC at Robins AFB. The new hangar required a complete structural design including the structural steel super-structure with long span trusses, serviceability (floor vibration), anti-terrorism and force protection requirements, two (2) 7-ton overhead bridge cranes and aircraft loadings to meet a design life in excess of 20 years. The slab design for the hangar utilizes state-of-the-art concrete mix and joint design, and the foundation utilizes mid-depth stone aggregate columns in lieu of deep foundations. Utilized: SPECSINTACT; PCASE; STAAD, DrChecks; AutoCAD and MicroStation software programs.
The purpose of the MCRC project was for relocating the Marine Corps Reserve Units from the Naval Air Station in Atlanta, Georgia to Robins Air Force Base in Warner Robins, Georgia. The project scope included constructing a Type I Hangar, renovations and upgrades to existing Hangars 2066 and 2067, and renovations to Building 2065.
Renovation of existing hangars 2065, 2066 and 2067 was another part of this project and serves as maintenance shops for equipment and supply storage. Building 2065 also received minor renovations for ground support. Hangar 2066 was retrofitted to include administrative areas as well as a flight simulator and mobile armory. Hangar 2067 was renovated and is now used as an equipment and parts storage area. Both of these hangars have upgrades which include security and identification systems. Existing Beale Drive was relocated to meet Anti-Terrorism / Force Protection standard set-backs for a military hangar of this type.
The design and construction teams maintained records and provided the paperwork necessary for the submittal of this project for LEED Certification. Final level of certification was LEED Certified
Awards
Association of General Contractors – Build Georgia Award
First Place – Robins AFB – Marine Corps Reserve Center
Awarded in 2011
Role: Structural Engineer / Size: 40,375 SF / Cost(s): $20,153,071
Categories