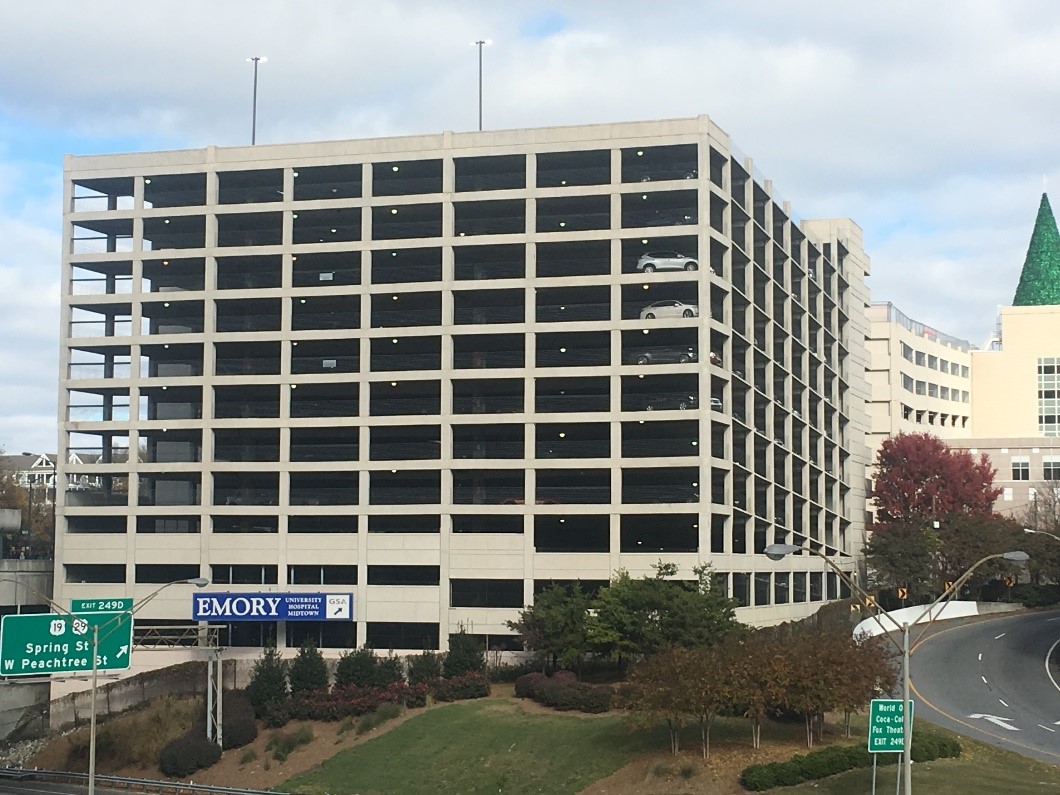 Pine Street Parking Structure
Midtown Atlanta, GA
Innovative Engineering Inc. performed a structural condition assessment for the existing 12-story 387,000 SF Pine Street parking structure located on the Emory University Hospital Midtown campus in Atlanta, GA. The structural condition assessment included a comprehensive survey of all deficiencies above and below each elevated level as well as vertical wall and column surfaces. All surfaces were also sounded utilizing a state-of-the-art sounding device to locate concrete delamination and future spalls where reinforcement in the slab is rusting. Cracks either greater than .012" in width or leaking water were mapped and quantified for repair. Crack width was measured with a propriety crack gauge. Chloride Ion and carbonation tests were also performed to help predict the remaining useful life of the structure.
The Condition assessment report included photos of typical deficiencies, priority, and estimated cost of increasing repairs. Structural repair details were prepared for high and very high priority repairs. Broken shear transfer connections between double tees were repaired with state-of-the-art CERP T-BISCUITS. Also provided resident engineering for the repair work. Cost: $534,000.
Project Details
The Pine Street parking structure is situated at the corner of West Peachtree Street and Pine Street in downtown Atlanta, Georgia. The 12-level Cast-in-Place structure is founded on deep foundations (piles), and has conventionally reinforced columns, and post-tensioned beams and slabs. The exterior is partially clad in precast, stucco, and concrete masonry units (CMU). There are two stair towers and one elevator tower. The facility was constructed in 2002.
Categories