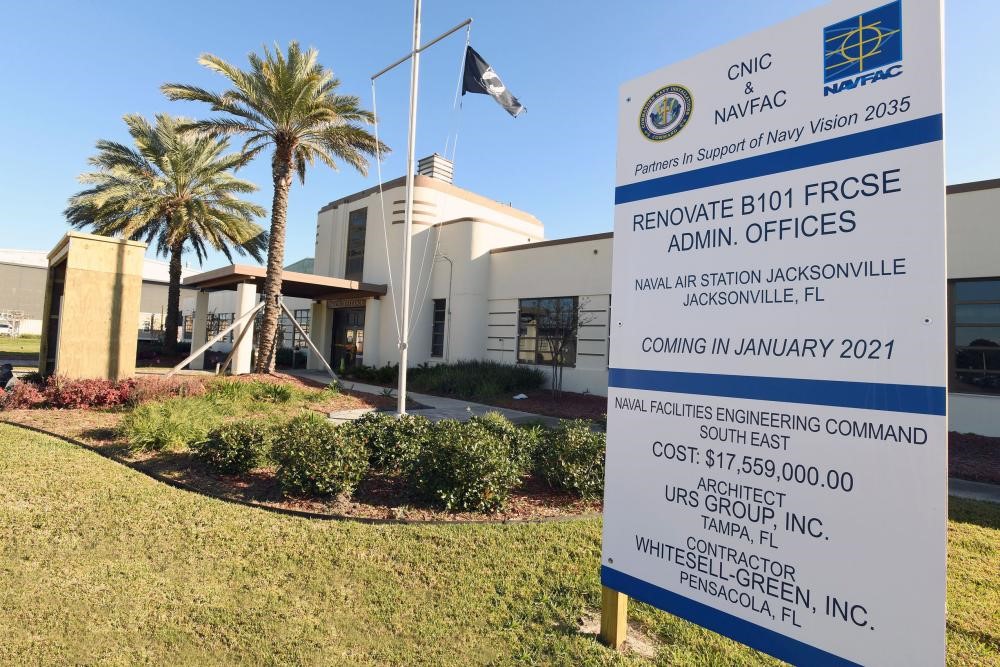 NAS Jacksonville B101 Timber Framed Building Repairs
Jacksonville, FL
Innovative Engineering Inc. performed a condition assessment, structural analysis, preparation of repair drawings, specifications, and cost estimates for a heavy timber framed building subject to termite and rot damage. Structural members included timber decking, heavy timber purlins and trusses, and columns including connections. 117,200 SF, Repair Estimate: $620,000
Project Details
Building 101 is a large concrete and wood framed building constructed in circa 1943 and covers approximately 117,200 SF. The building rests on a six-inch slab-on-fill with grade beam and pile foundations. Exterior walls consist of concrete columns with CMU infill. Interior columns typically are wood, though steel columns can be found in some locations which were typically installed as part of renovations occurring periodically throughout the life of the building. B101 is generally one story in height with numerous mezzanine levels throughout the structure.
Building 101 previously underwent a roof replacement project. Before this project, the roof of Building 101 was reported to leak in many locations throughout the entire structure, allowing large quantities of moisture to infiltrate and potentially deteriorate the wood structural members of the building. As part of the roof replacement project, deteriorated portions of the roof deck were replaced. However, not all deteriorated members were addressed and additional rot damage was present at the time of IEI's inspection. Deteriorated and peeling paint was typical throughout the roof structure of Building 101. While this condition may have been a result of inadequate surface preparation or the use of incompatible materials in combination, the deteriorated paint was likely exacerbated by the presence of the aforementioned moisture. Additionally, a colony of termites was reported to have swarmed in the area of a damaged Column within the past five years, raising concerns regarding termite damage to components.
Structural
The Inspections consisted of the review of existing drawings and visual examinations of roof truss and framing members. Visual inspections included observations of all available faces of each member from the ground utilizing binoculars and telephoto camera lenses. At some locations, additional visual and hands-on inspections were performed. These activities included the use of a mast boom lift and extension ladder to access roof members. Close-up visual inspections and physical examinations including probing were performed. Members with observed damage were marked on existing drawings and quantified. Photographs were taken of the damaged areas.
As a part of this inspection, any structurally unsafe conditions and potential water infiltration or potential pest infestation sources were noted; and representative views of these conditions requiring maintenance were identified and documented in the report.
Subsequent to the inspection, a complete design solution was provided for the repair of the damaged Column and associated framing and connections in the area, and for the repair of another Column in an adjoining area. The design solutions included drawings and details for the repair of the Column and damaged wood purlins, reconnecting wood decking to the repaired purlins, and repair details to the adjoining Column. Cost estimates were provided for each of the recommended repairs.
Categories